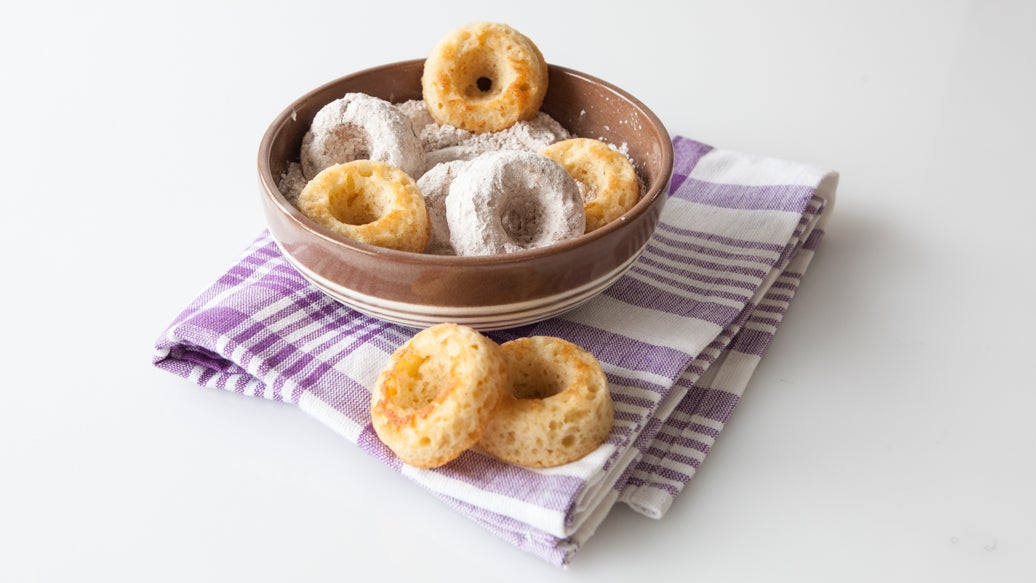 27 - 30 min
48 mini doughnuts
$0.15/serving
Ingredients
Glaze:
2⁄3 cup unsalted butter, lightly melted
1⁄3 cup low-fat milk
3 tsp vanilla extract
2 1⁄2 cup icing sugar
Doughnuts:
2 cups all-purpose flour
1 tbsp baking powder
3⁄4 cup unsalted butter, softened
1 cup sugar
2 eggs
1⁄2 cup low-fat milk, divided
1 tsp vanilla extract
Preparation
To make glaze, using Piano Wire Whisk, whisk all ingredients until smooth. Set aside.
To make doughnuts, preheat oven to 400° F (205°C).
In a bowl, using Piano Wire Whisk, whisk first 4 ingredients.
In a second bowl, using an electric mixer, beat butter and sugar until creamy. Add eggs one at a time, beating well after each addition.
Slowly mix in dry mixture and milk in batches: 3 batches dry; 2 batches milk mixed with vanilla extract. Be careful not to over mix.
Using a basting brush, lightly brush Doughnut Mold with vegetable oil. Pipe or spoon dough into Doughnut Mold, filling wells 2⁄3 full. Repeat with remaining batter.
Bake until a toothpick comes out clean, approximately 12–15 minutes.
To glaze, dip each doughnut completely in glaze. Place on a cooling rack. Top with Whole Food Sprinkle and let glaze set before serving, approximately 5 minutes.
Nutritional Information
Per serving (1 doughnut): Calories 110, Fat 6 g (Saturated 3.5 g, Trans 0.2 g), Cholesterol 25 mg, Sodium 50 mg, Carbohydrate 15 g (Fiber 0 g, Sugars 11 g), Protein 1 g.