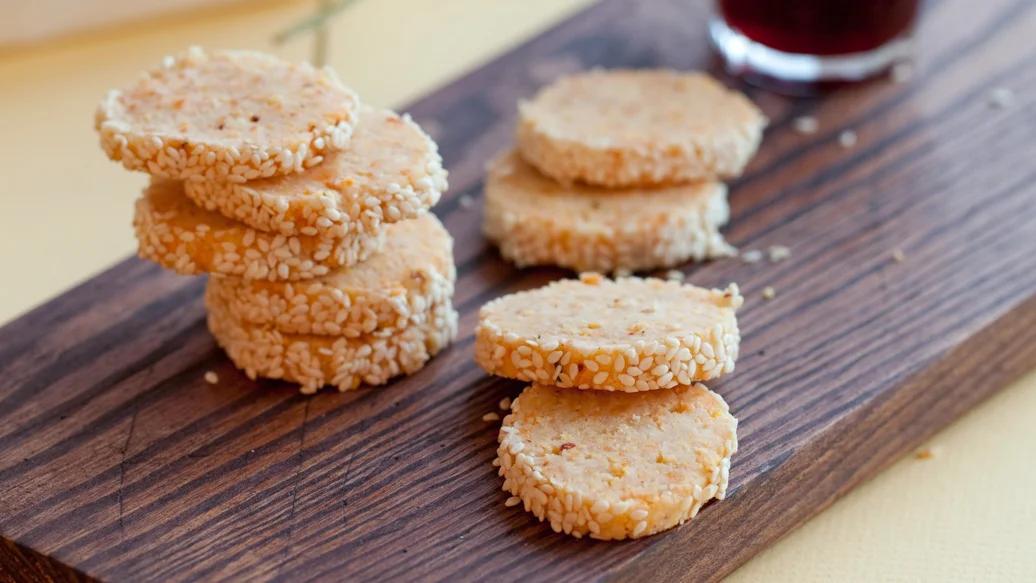 35 min
48 crisps
$0.13/serving
Crisp homemade crackers are perfect for serving with cheese and savory spreads, and are delicious with Red Pepper Jelly. Double the recipe to make as gifts.
Ingredients
1 cup butter
1 tsp Dijon-style mustard
1 tsp sesame oil
1 cup grated cheese (Asiago, white cheddar or Parmesan)
1 cup all-purpose flour
1⁄4 cup cornmeal
1 pinch Cinco Pepper Blend, optional
1 egg white
1⁄3 cup sesame seeds
Preparation
PREP DOUGH
In a bowl, beat butter, mustard and oil until smooth. Stir in cheese.
In a separate small bowl, whisk flour, cornmeal, Nacho Cheese Dip Mix and Cinco Pepper Blend. Stir dry mixture, one half at a time, into butter mixture, stirring until dough is smooth. If dough is too dry, add up to 2 tbsp cold water. Form dough into 6" long logs.
Whisk egg white until foamy. Spread sesame seeds on a sheet of parchment paper. Brush each log in egg white, then roll in sesame seeds to coat.
Tightly wrap each log in parchment paper and refrigerate for approximately 1 hour, until firm.
BAKE
Preheat oven to 325° F (160° C).
Cut chilled logs into 1⁄4" slices and place 1" apart on Sheet Pan lined with parchment paper. Bake for 15 minutes. Cool completely before removing.
Nutritional Information
Per serving: Calories 45, Fat 3.5 g (Saturated 2 g, Trans 0 g), Cholesterol 10 mg, Sodium 25 mg, Carbohydrate 3 g (Fiber 0 g, Sugars 0 g), Protein 1 g.